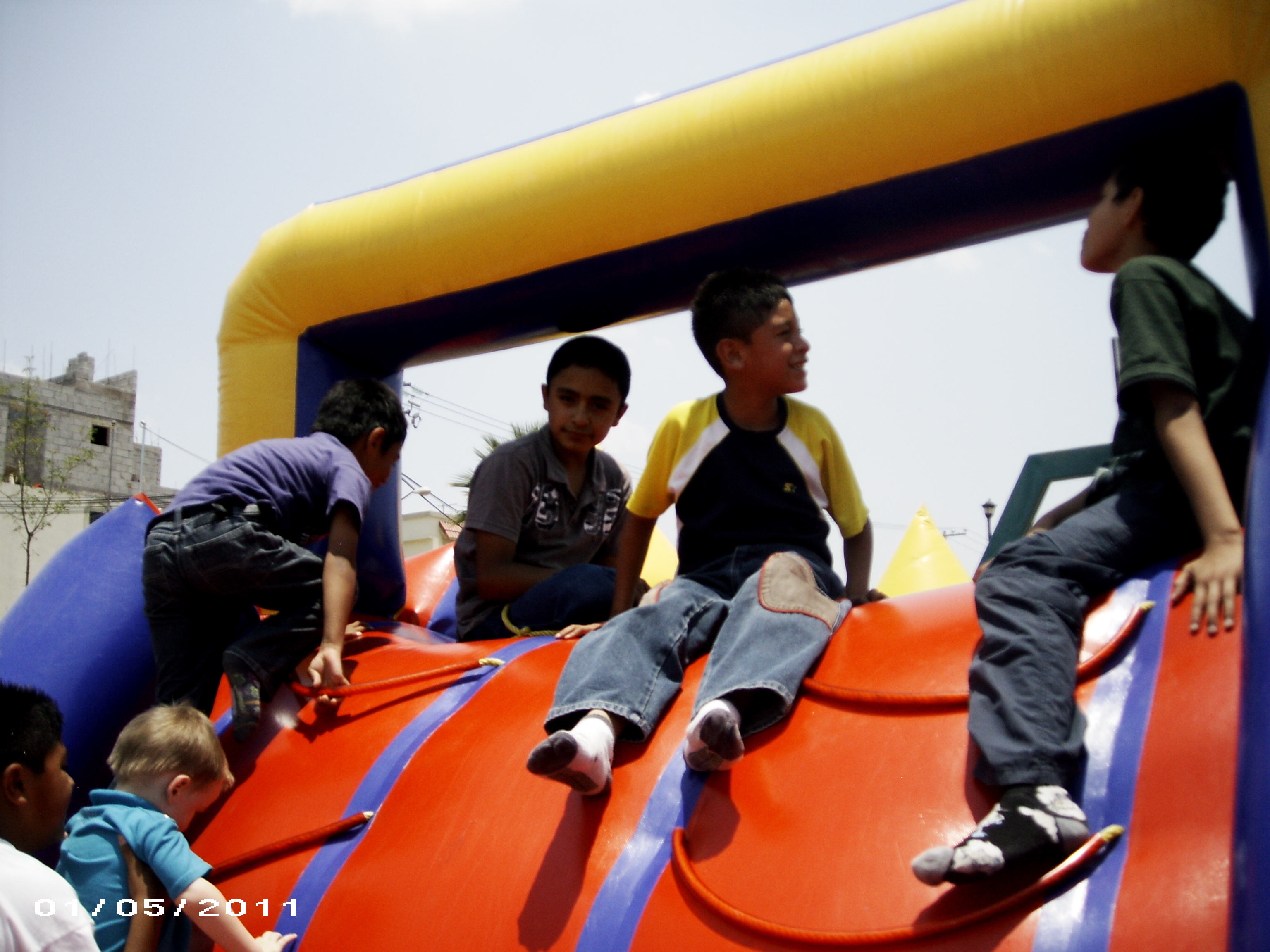 May 3, 2011
We celebrated the "Day of the Child" on May 1 with our church family after worship. We had a trampoline, a bounce house, candy treats, cake, an egg hunt, and sunny skies. We were "at church" for about 12 hours from "set up" to "stow away". I think we had a great turnout - almost 50. It was great to see our church pull together to organize and pull off such a great celebration. Teri and I participated fully but left the organizing and details to others (except for the egg hunt which is not really a "Mexican" thing, but who doesn't love finding eggs filled with yummy candy?). We had 2 new families come. Please continue praying for our ministry and the Kingdom of God to grow. We see God working along with all of our prayers because people are growing, seeking, and maturing. What a huge blessing to see the church putting what they are learning into practice by stepping up to service and outreach.
We are currently leading 4 of our most involved couples through a basics course that afterwards they will be able to teach to others who are newcomers and may have a need to learn "the basics" for the first time. I believe I can say confidently that none of these couples is hearing this teaching for the first time, although they have likely not had it compiled in the way it is being presented. It is very helpful material that we are teaching and they seem to be enjoying the course and continue to be committed to finishing it. We are reaffirming the importance of reading and even memorizing the scriptures, making God the leader in our lives, obeying God's Word, challenging the territory and spiritual strongholds of our enemy, and expanding the Kingdom of God on earth. I say every time we are together that they will be able (and expected) to lead others through the material when they have finished it. They seem to be encouraged and even excited about what we are doing together. It is a big confirmation that they recognize themselves as a group and are uniting more and more because they are calling themselves the King of Kings Christian Church. We look like and act more like the church every day. May God be praised and glorified.
Thank you for your prayers, gifts, and interest in this ministry.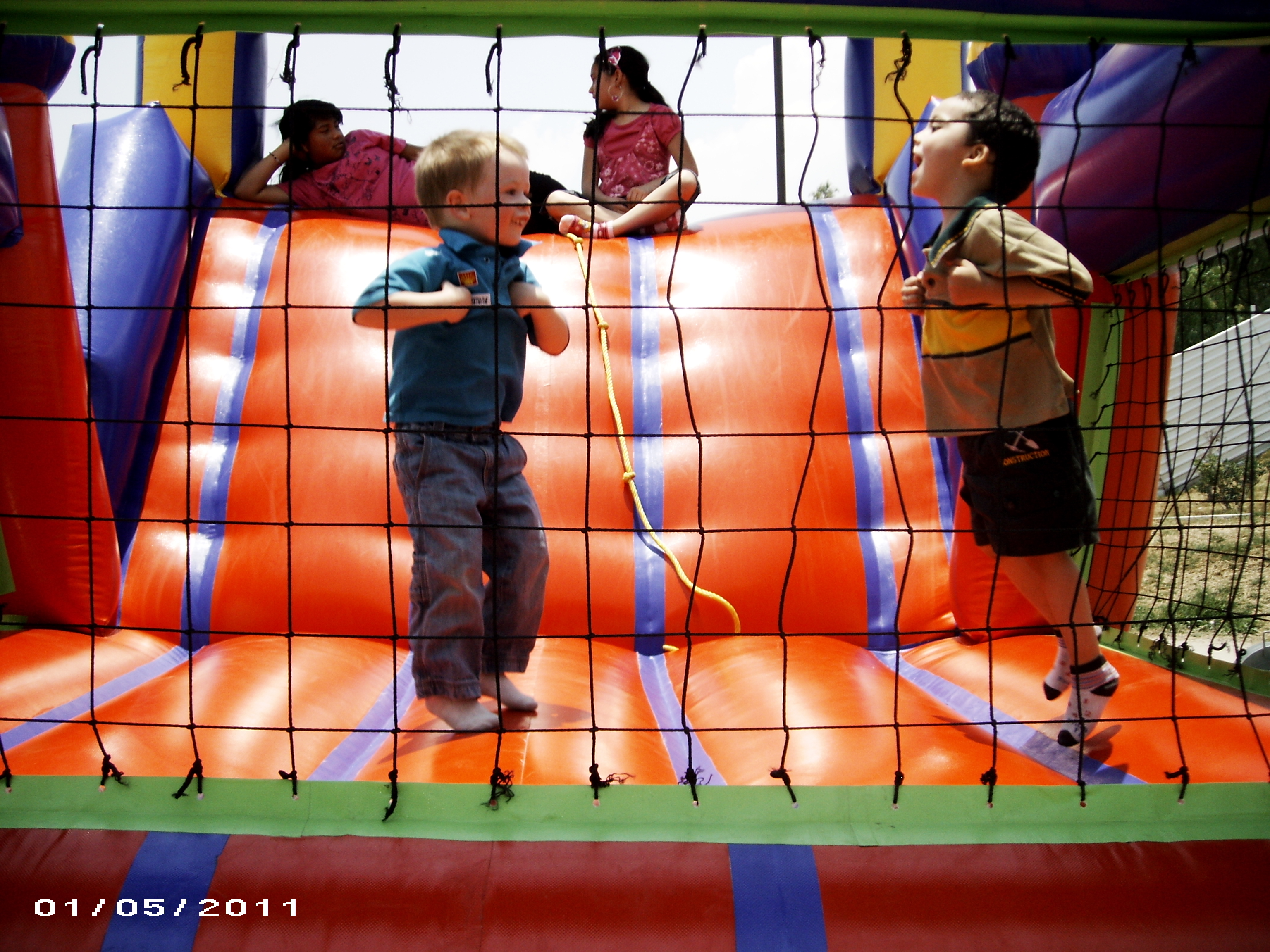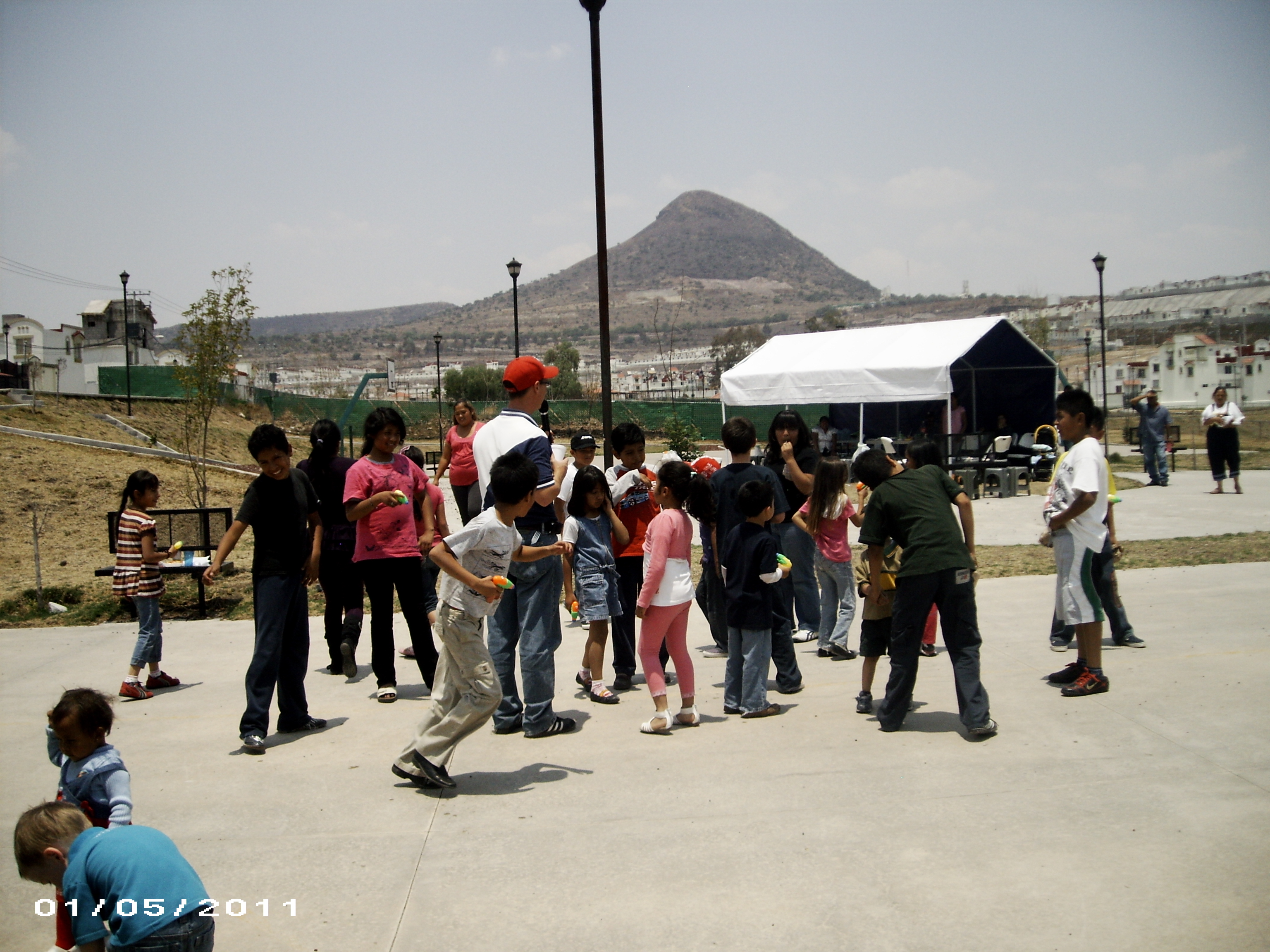 We Chose a Name!

One of the delightful privileges of having a new baby is choosing a name. In many ways, starting a new church where there hasn't been one before is like having a new baby. But Teri and I are not the parents of the new church plant here in Huehuetoca. God,of course, is our father. We have not felt it was our place to choose the name. We are also not truly Mexican, although our friends tell us that we are now part Mexican (a very encouraging thing to hear). Therefore we encouraged those who are participating in the ministry to choose an appropriate name. In fact, the way to ask someone their name in Spanish is literally translated, "How do you call yourself?" So we felt it was appropriate culturally for them to choose their own name. We are thrilled that they have done exactly that.

Since we suggested many months ago that the congregation should have a name but that Teri and I would not be choosing the name, you may be wondering, "Why have they chosen a name now?" The answer to that question is a little bit humorous to us. A few weeks ago a few of our ladies went to the annual Ladies Conference hosted by the Christian Churches here in Mexico. There they were called the Huehuetoca church and they didn't exactly think it was a good name. They said it lacked creativity and imagination. So, last week they decided during the morning worship to pray over the decision and come with their suggestions to be voted upon in one week. Yesterday (April 17, 2011) they chose our official new name. We will be calling ourselves . . . La Iglesia Cristiana Rey de Reyes. The name in English means King of Kings Christian Church. Since the name of the subdivision is UrbiVillas del Rey (Urban villas of the King) we felt it was a creative way to honor Jesus and our neighborhood. So please pray for the ministry of the King of Kings Christian Church in Huehuetoca, Mexico.
March 2, 2011
On Saturday afternoons the "jovenes", or youth, get together for fun and games and a Bible study around 4 in the afternoon. This is an active group of all young men so far. We have had as many as 10 young men attend and they are inviting their friends as well. It is exciting to see their enthusiasm for each other and for God's word. I wish you could hear them pray, it would be such a blessing for you.
We recently took our Wii and played a few video games including bowling, MarioKart, and Marvel comic's ultimate alliance. They really enjoyed the multiplayer games and share the controls better that Casey ever did when he was a kid.
Each week, we study a passage of the Bible and apply it to our lives. Recently we dove into the account of Jesus walking on water. We thought it was interesting that the disciples thought Jesus was a ghost and were afraid of him. Our faith was encouraged by Jesus' comment, "Do not be afraid." We also marveled at how Peter dared to trust in Jesus even though he appeared to be a ghost. One of the jovenes said, "If Jesus can save Peter in a storm like that, then he can save me when I face tough storms too."
Please pray for these young men as they grow and learn.
First Baptisms in URBIvillas, Huehuetoca, Mexico
February 2011
February 8, 2011
Thank you so much for making a prayer investment in this ministry. We offer up an offering of thanksgiving and halleluyah for the growth that God is bringing in our community. We were expecting 3 baptisms and praying for more last Sunday. As we were filling the portable baptistry, our son, Corbin asked, "Can I be baptized today too?" Praise Jesus, he was. We rejoice in the committment of 5 individuals who received Christian baptism in URBI on February 6, 2011. We are continuing to meet day after day and from house to house so that these (and many other new disciples) will grow to be great followers of Jesus who will both know Him and make Him known.
Our emphasis in ministry is discipleship. We are encouraging daily bible reading and living the life that Jesus taught us to live. We ask for your continued prayers and gifts to be offered up to heaven's throne so that the kingdom of God grows here on earth until Jesus returns. May God grant his blessing on His people.
February 1, 2011

Excitement is in the air here in Mexico. Especially in our corner of Mexico called Huehuetoca. We continue to see people growing in spiritual maturity and in their commitment to the vision that God is showing us as we continue to raise up a new church in URBIvillas del Rey.

Here's just one example: last Sunday we expected the attendance to be down because we had been advised that 4 of our families would not be able to attend for various reasons. We were pleasantly surprised to have four new families attend who had never been a part of our Sunday Morning gathering. We had so many people present that it was necessary for some of us to sit on the ground for the lack of chairs.

Another example of the growth to which we can testify is that recently we noticed a need for the children's group to branch out so that two age appropriate groups would be formed. We were blessed last week to see a husband and wife team take over and plan for the children's program on their own. We praise God for a vision and attitude of service that is so clearly evident in Christ's servants here.

We have a wonderful prayer request. In just a few days 3 different individuals we know and minister with will be baptized. There is a possibility of two more people taking advantage of the opportunity to be baptized as well. God is amazing. Of course we have also planned a carry-in-meal and there will be cakes to celebrate this joyous occasion. This beautiful Hispanic culture would never turn down an opportunity to have a fiesta. What a reason to celebrate!

Along with these blessings we can also feel the attacks of Satan as he works to discourage our ministry, our families and teammates here in Huehuetoca. As we near this very special occasion, please pray that we might visibly see the victory God has promised over Satan in the lives of our families and friends. Strengthen his leaders and guide and direct us to stay in His holy footsteps.

We love you all and are so blessed to know you are praying with us.

Grace, Peace, and Hope;

Casey and Teri Hancock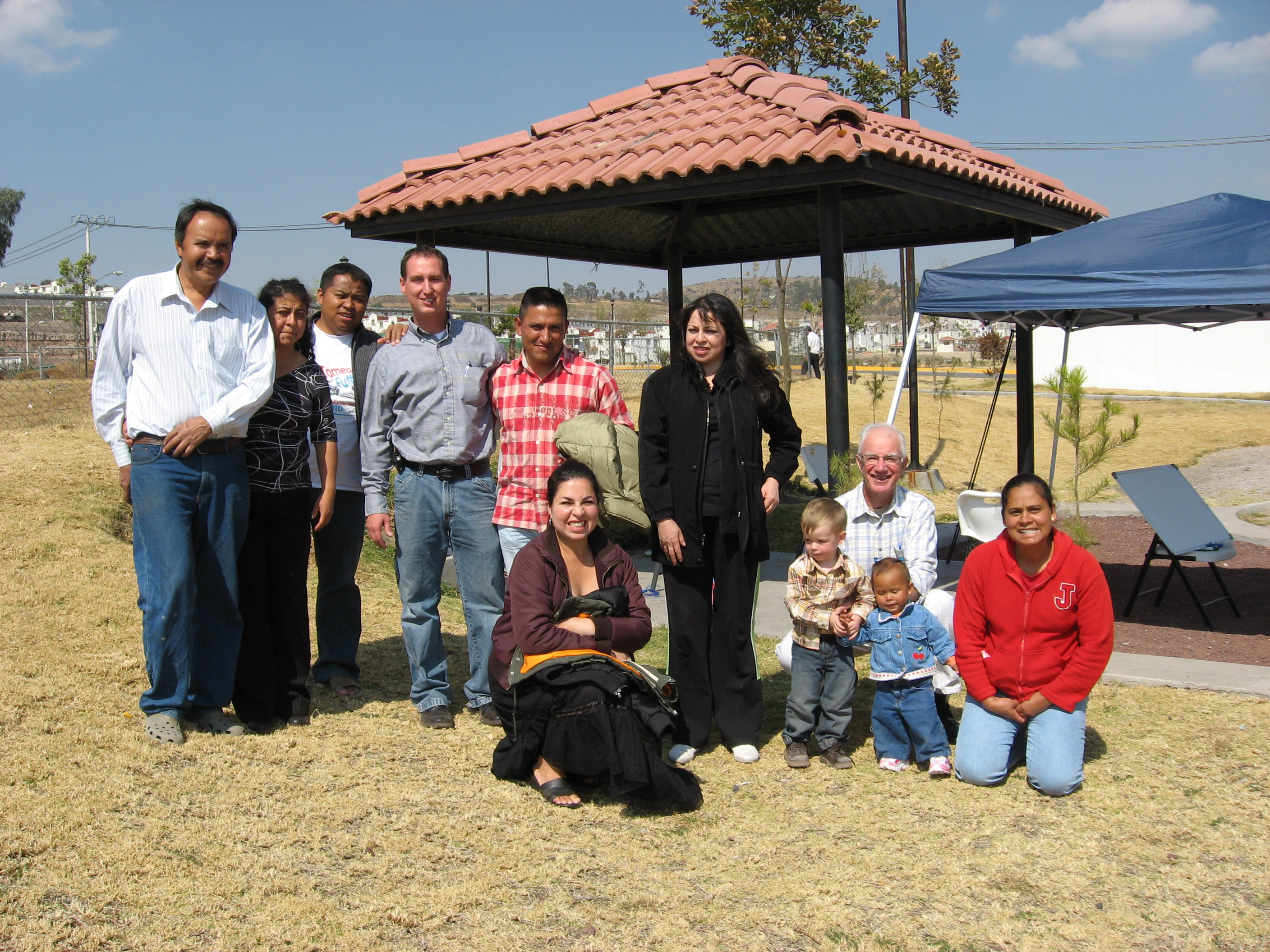 November 2010
November 17, 2010
November greetings to you from sunny Mexico. November is bringing us cool (sometimes cold) evenings and warm mid-70's in the afternoons. Recently the temperature dropped below freezing for several nights in a row so many of the plants and almost all the grass turned brown within a few days. When we go out in the morning we dress in layers so that later, when it gets warm, we can take off a sweatshirt or jacket and be comfortable. Maybe you don't need to be told that, even though it has been colder than it usually is, our children will not likely see snow this winter.
Even if the weather is cooling, the ministry is heating up. In a previous update, we mentioned the involvement of those participating in the ministry of the church in Huehuetoca at the planning level because it is our aim to involve as many as we can in the planning and implementation of our Sunday worship and Bible Studies. We are delighted to share with you that in our musical worship, adult Bible Study, and children's bible activities we recently had a Sunday where we saw a Mexican up front in a leadership role in each of these areas. It is a big praise to see that we can continue participating in the rotation and we certainly still have lots of work to do, but that the new congregation in Huehuetoca is not fully dependent on missionaries. They can do a fantastic job in helping conduct the ministry of the church. They are still growing in discipleship and we still have much work to do in the community. But it is a great encouragement to see their willingness to be instruments of God's grace in our public worship. We have a similar feeling that we felt when our children were learning to walk. We have great cause for rejoicing. Praise Jesus! We also have the responsibility to continue leading and teaching. Praise the Father and continue praying for His great work here in Huehuetoca.
Reports and requests:
Those involved in the accident mentioned in a past update are doing much better and we have seen them emerge from this trial with a stronger faith and drive to serve God.
Employment is a continual concern for many of our friends in Huehuetoca and in the U.S. The good news is that God is providing answers to our prayers. Please continue praying for God to provide employment for many in our community.
The ladies ministry continues to be a blessing in our community. Everyone present at the recent ladies' breakfast was blessed by Jorcy's message of endurance in trials. Jorcy participates in the ministry of the Eagles Christian Church; one of our sister churches here in the state of Mexico. It is a blessing to promote unity among believers in different congregations here as well as in the U.S.A.
We praise God for our partnership with you and for your interest and prayers for this work. May God richly bless you today and everyday.
Casey and Teri Hancock
We set up tents in the park for worship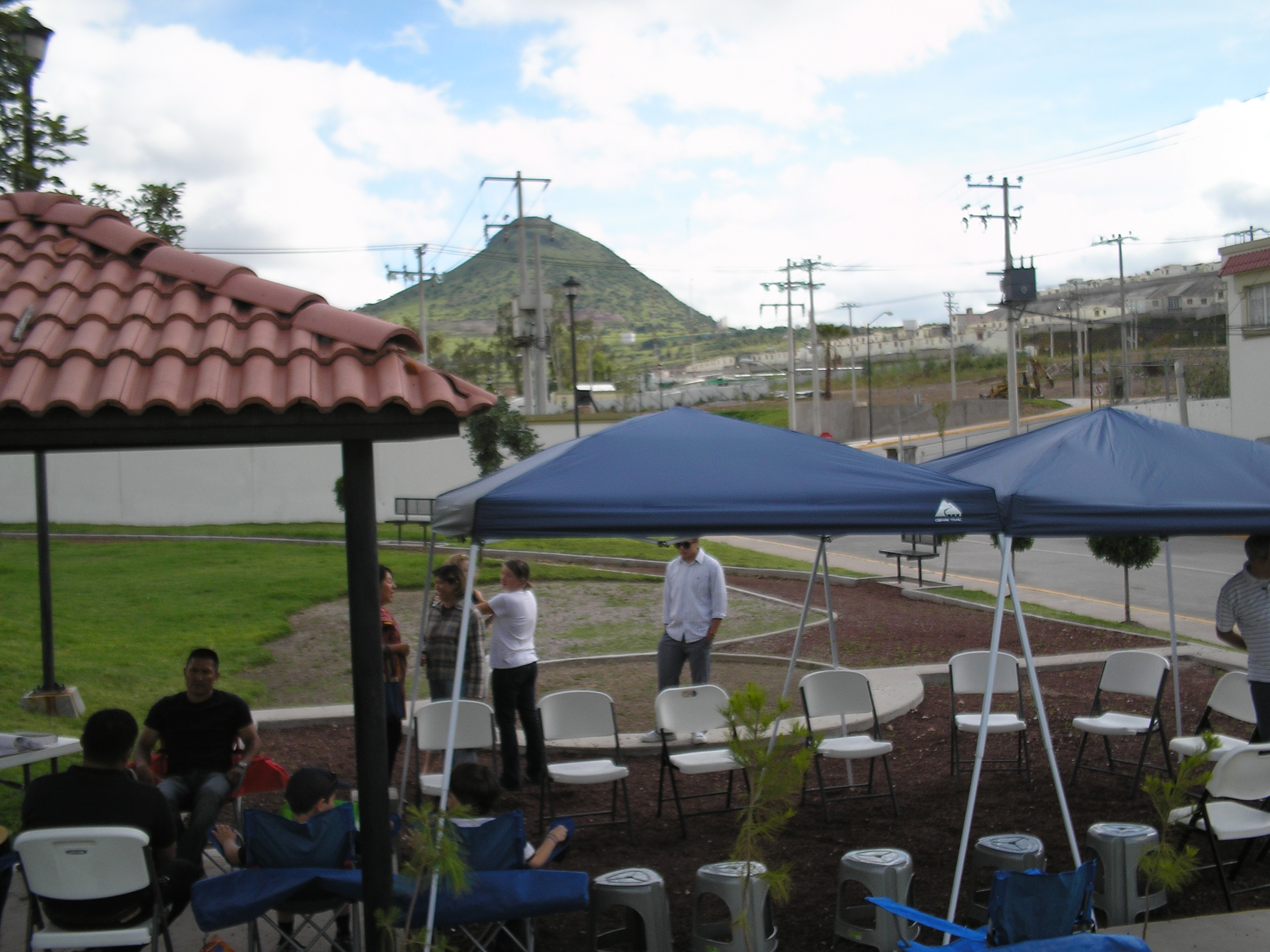 October 5, 2010
New church work in that state of Mexico is exciting and challenging and we are thankful for your partnership in the work of spreading the gospel of Jesus Christ around the world. Our two main centers of focus at present are discipleship and vision casting. As believers in Christ we are called to make disciples of the nations, to baptize, and to teach others to obey all that Jesus commanded us. We are so thankful that Jesus promised to accompany us on this journey. In fact, without His Holy Spirit watching over us when we eat, sleep, drive, and walk each day, no doubt we would soon find trouble catching up to us. We don't take for granted His care for His people. And we are glad for your requests to God on our behalf.
Christ promised that He would be with us to the end, not that we would never experience trials or trouble of any kind. So we ask you to join us as we are praying for the families and individuals in our ministry.
Here are a few of our recent requests:
One of the men in our church was involved in an automobile accident that, thankfully no one was seriously injured, but has placed a tighter strain on an already strained financial situation. The good news is that the church is involved in helping out where we can.
The husband\father of another family in the church lost his job several months ago and continues to look for new work. This is another situation where God has given the church the opportunity to BE the church in the world and we are seeing growth and responsiveness.
Our community is very concerned for her children and continues to request prayer for the young ones who are growing up in a world without security. Please join us in asking for God's blessing, protection, and provision for our children.
Upcoming events: This Saturday (October 9) we are having a church dinner hosted at our house. Our goal is to have fun together but more importantly to plan out our weekend worship schedule for the rest of the year. Since we are a new church and we want it to be authentically Mexican, it is our aim to involve as many of our Mexican friends as we can in the planning and implementation of our Sunday worship and Bible Studies. Most of our friends who are involved in the church have never done this before and we want to help them succeed as much as we can. Please pray for a great experience.
Later this month, our ladies have planned a quarterly fellowship breakfast to be held on October 23. Jorcy, one of the leaders from the Eagles Christian Church (our sister church in Atizapan) will be speaking on "Surviving the Storms of Life."
In November is the Christian Church Youth Congress for teens from all around our region. This year our young people will be headed to Huasca, Hidalgo for their annual 3-day event themed "Libérate" (translation: break free).
May God bless and keep you,
Casey and Teri Hancock